Discussion Starter
·
#1
·
Wow hasn't June, July, and August been unreal for me.
Firstly I have been made "redundant", and paid out from Work.
Also check out the price of Diesel per Litre, from Kunawarritji (Well 33)
One of the most isolated Communities in Oz.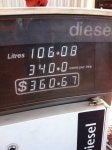 Secondly I have just finished 1 months driving, (and touring) some of the more isolated tracks in Western Australia.
Got heaps of video of Camels, and Corrugations
I did not go pig shooting in Northern New South Wales, as it meant a 2000km round trip, for 3 days hunting, was not on, as the departure date for our Outback trip, was brought forward 4 days.
I did drop off 150 rounds of .338, and 150 rounds of 375 H & H rounds in Perth, for the trip I am still trying to organize over there
Had a beer with one of the owners of the 1.3 million acre property, and he only wants 1 months notice, and it's on .
Sent from my iPhone using Marlin Forum